Kokon Ecolodge: Liberia's Newest Hidden Gem
Posted on Fri August 18, 2023.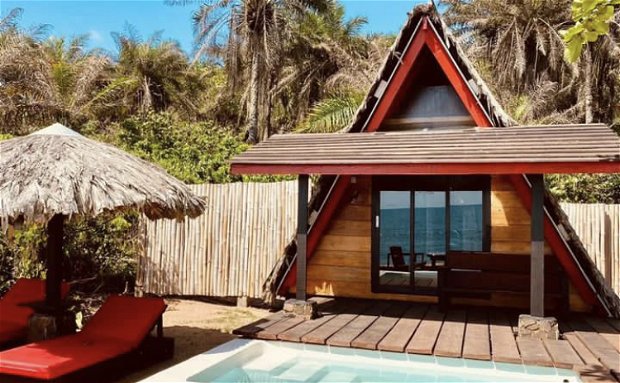 Beyond narrow, winding waterways lined with mangroves lies Liberia's newest hidden gem: Kokon Ecolodge, a slice of paradise nestled between the wetlands and the waves of the Atlantic. The resort officially opened its doors to the public on April 22, 2023, to much excitement from the Liberian travel community. It has broken ground in many ways: the facility has pledged to run 100% on solar power, strictly manage water usage, source food locally, eliminate energy and food waste, and minimize environmental impact. The lodge is a little corner of paradise in Grand Bassa County, stocked with modern amenities and serenity. Come to Kokon Ecolodge and be a part of Liberia's growing ecotourism.
Why Kokon?
The story of Kokon started when owners Rudolph and Lisa Antoune, also proprietors of the more established Libassa Ecolodge in neighboring Margibi County, decided to spread their vision eastward. This May, Emmanuel Y. Kartu, a Liberian YouTuber "telling the untold stories of Liberia," interviewed Niki Arakofa, a Kokon employee, about the ecolodge's origins. Arakofa confided that Rudolph Antoune discovered its location over the pandemic seeking ideal locations for his family's vacation. They camped at Bassa Point; he saw a cool rock formation on the beach and knew it would be the ideal place for an ecolodge.
As for the name itself, Arakofa told Kartu that "kokon" derives from a Bassa word meaning "sitting down." A nod to the comfort found at the ecolodge by guests sipping piña coladas on a lounge chair under a show-stopping Liberian sunset.
Liberia's National Tourism Association (LINTA) Welcome Center in Marshall City, from where boats to Kokon Ecolodge disembark. Photo by Royda "Philimena" Urey.
Getting to Kokon
Kokon Ecolodge is easily accessible from Monrovia, Liberia's capital, and is only 40 minutes from Roberts International Airport. The boat which takes guests to the ecolodge is docked in Marshall City. Once in Marshall City, look for the Liberia National Tourism Association (LINTA) Welcome Center (a covered wooden deck with a dock connected to it) directly to the right of the Liberia Maritime Training Office. A Kokon employee will greet you there, confirm your return time, and provide you with a life jacket for the journey across the river. You can only get to Bassa Point, where the ecolodge is located, by water because of the marshes on one side and the sea on the other. As such, a small motorboat will ferry you toward your destination. The boats run every hour between 8 AM and 6 PM, Thursday through Monday, as the lodge is only available for arrival on those days. The 10-15 minute water taxi ventures through gradually narrowing waterways, from a lagoon at the mouth of the Gbah River to a branch where both banks seem close enough to touch. The magical ride provides views of the Marshall Wetlands' mangrove forests, some of the most expansive in the country.
A water taxi prepares to dock at the floating platform deep within the mangroves. Photo by Royda "Philimena" Urey.
Deep within the mangroves, the boat docks at a floating platform, from which you emerge into an open grass landscape as you disembark. Next, you take an electric, noise-free golf cart for a ten-minute ride to the ecolodge. As you start your drive, multiple massive, cylindrical concrete structures appear on both sides of the dirt path. They are abandoned US military fortifications from World War II. American troops built them to store arms and serve as a launch base for naval attacks on the Germans, leaving them to ruin afterward. The golf cart enters a forest for a bit before entering your destination. 
Ecolodge Accommodations
Kokon Ecolodge provides a tranquil escape from the buzz of the outside world, its facilities situated at the edge of the forest looking out onto a secluded beach at Bassa Point. The brilliant red lounge chairs contrast with the pristine golden sand and the calm blue waves. Kokon has ten separate A-frame lodges available for its guests, each lodge with a view of the Atlantic. A couple steps take you right onto the beach. The shape of the lodges keeps them cool during the hot days of summer, with the aid of fans on the ceiling and floor. Inside, wood paneling with red accents gives the lodges a relaxed, cozy feel.
The inside of one of the standard lodges. Bathroom sink, bed, and couch are visible. Photo by Royda "Philimena" Urey.
Kokon offers two types of lodges: standard and suite. Eight of the ten huts are standard, the less expensive option. Standard rooms can hold up to five guests. They contain a queen bed, a convertible sofa bed, a second mattress, mosquito nets, and chargers for electronics. Each room has a private bathroom with a ceramic sink bowl and a hot shower. Outside, a bench sits under the balcony, and two lounge chairs and a table overlook the waves. The two suites possess the amenities of the standard rooms with an extra room with a single mattress, a wood patio, and a private pool. They both hold up to six guests.
Amenities
All corners of the ecolodge are equipped with free WiFi and a 24-hour power supply. You receive a glass of coconut water upon arrival to Kokon and a complimentary buffet breakfast each morning. For lunch and dinner, food is available for purchase at a restaurant and bar on a deck overlooking the beach. All dishes and food items are locally sourced. Per Kokon Ecolodge's Instagram page, the restaurant offers seafood stew, homemade cassava cake, fish burgers, lobster, and more. Beer, cocktails, and non-alcoholic beverages are on the menu as well.
Atlantic waves washing on to the golden sands of Bassa Point Beach. Photo by Kokon Ecolodge.
Beyond the restaurant's railings, the enticing water of two pools is available for all guests. Palm trees tower over the pool deck, and a bridge leads over the pools down to 1,500 unspoiled acres of Bassa Point beach. The rest of the property consists of a nature reserve, protecting the wildlife in the forest, savannah, and lagoon within its borders. 
Activities
At the frontier of land and sea, you will never be at a loss for things to do at Kokon Ecolodge. Activities await whether you prefer to stay on the beach, explore the Kokon's inland grounds, or go on excursions further afield. Kokon also hosts staff retreats, meetings, weddings, and birthday celebrations.
1. Beach Activities
On the beach, you can pay a small fee to rent surfboards to go surfing on the welcoming waves, or take a class and learn how. You can rent balls and nets for beach football upon request, and they are in the process of acquiring beach volleyball and kayaking equipment. If you prefer a more stationary style of fitness, an eco-gym made entirely of wood is also coming soon to the beachfront. 
A surfer rolls in on a wave toward the Bassa Point Beach, destined to fall off a few seconds later. Photo by Royda "Philimena" Urey.
For a more relaxing day, consider paying for a massage or renting some of Kokon's board games and card games to play with your friends in the evening breeze. Activities such as tie-dye, pottery making, and African dance classes are also listed on the website; call for details at +231 776 555 500, the phone number of the ecolodge.
2. Forest Adventures
If you've come to see Liberia's nature, Kokon Ecolodge is a great place for this. Locally-hired employees lead nature walks and botanical tours, highlighting the beautiful trees here along with their uses. A hill dotted with greenery at the end of the beach overlooks a scattered rock formation practically begging to be the backdrop for a photoshoot.
Kokon's varied ecosystem is a hidden gem for avid birders like me. Around 200 native species live here. According to data sourced from eBird, people birding in Kokon have documented over 60 species between April and June 2023. Highlights include Copper Sunbirds, Palm-Nut Vultures, Yellow-Bellied Turacos, Malachite Kingfishers, West African Wattle-eyes, White-crested Hornbills, Black Terns, Western Reef Herons, and the Common Bulbul, or "Pepper Bird," the national bird of Liberia. For other wildlife seekers, monkeys, other small mammals, and many reptiles and amphibians call the reserve home. 
A Malachite Kingfisher zeroes in on its target. Photo by Elize Bezuidenhout on Unsplash
Kokon's Sustainable Tourism Mission
What truly makes Kokon remarkable is how steadfastly it holds to its Corporate Social Responsibility (CSR) values. According to Kokon's website, CSR is the commitment to "building and running [their] lodge in an eco-friendly way in a way that will also benefit the local community." They aim to embody the principles of sustainable tourism.
Tourism that Benefits the Local Community
Kokon Ecolodge hires local community members to work at the resort. Local employees like Arakofa bring unparalleled expertise and enthusiasm to the job and ensure the business shapes itself to the community's needs. The owners support Butterfly Early Learning Center in Kpan's Town in partnership with the Liberian Ministry of Education. They are also in the process of building a new school in Bassa Point.
Minimum Environmental Impact
Kokon Ecolodge has pledged to minimize harmful impacts on the environment to preserve Liberia's extraordinary environment. Electricity and hot water are 100% solar powered, all light bulbs are LED, sinks and showers are designed to waste little water, and composting and recycling are implemented. In addition, Kokon has planted more trees than were used to build the lodges and will continue to plant more. 
Sunset on the deck of Kokon Ecolodge. Photo by Kokon Ecolodge. 
At Kokon Ecolodge's opening ceremony, Rudolph Antoune emphasized how he wanted Kokon Ecolodge to become an example for other lodges in Liberia. Liberia has too often been ignored or viewed in a negative light by the media, but Antoune aims to change that. He wants to create a "new face" for Liberia, one of the developing, promising country for ecotourism. Kokon's motto is "This too is Liberia," showing how significant this value is to the project. Along with the rest of its goals, Kokon values providing guests with education, adventure, and a relaxing vacation. 
Information on prices for accommodation and supplementary activities can be found at https://www.kokonecolodge.com/. Book now at [email protected] or using the website link. Call for more information at +231 776 555 500, or contact via this number in WhatsApp
Curious about what other adventures await you in Liberia? Check out Liberia's official travel website for more in-depth travel tips! And follow us on Instagram @enjoy_liberia_travel.