Five of Liberia's Best Beaches
Posted on Wed May 10, 2023.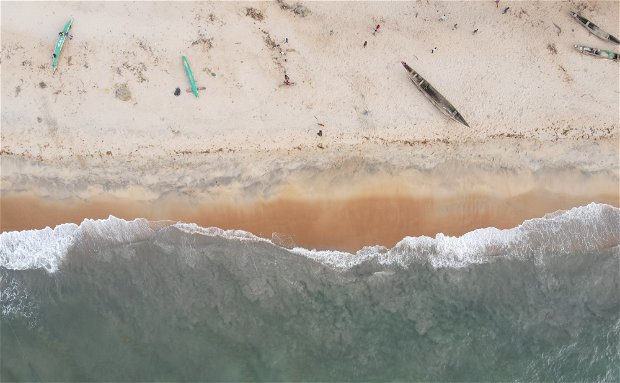 Looking for a destination that offers serene beaches, verdant rainforests, and wildlife? Look no further than Liberia's Atlantic Ocean coastline. With 350 miles of pristine beaches, from secluded stretches to lively resorts, there's a beach for every preference.
Liberia's Atlantic Ocean coastline is home to some of the world's most stunning beaches, and it's no surprise that Liberia's beaches draw visitors from around the world. The breathtaking scenery of azure waters along the 350-mile coastline is a sight to behold, and the beaches here have fewer crowds and plenty of space to stretch out and enjoy the sun and surf. 
Liberia's beaches offer something for everyone, from secluded stretches perfect for unwinding to lively beach resorts perfect for families and groups of friends. For those who love water sports, the waves in certain spots are ideal for surfing, while the calm waters of other beaches offer an excellent spot for swimming. And just beyond the shoreline, you'll find lush, verdant rainforests teeming with wildlife. 
Here are 5 of Liberia's Best Beaches:
Liberia's beaches are the perfect destination for an escape from the hustle and bustle of daily life. With so much natural beauty to discover, you're sure to have a truly unforgettable experience
1. Nana's Lodge Beach
Photo courtesy of Solimar International
Nana's Lodge Beach in Robertsport, Liberia, is one of Liberia's best beaches and a surfer's paradise that offers adventure and natural beauty. With golden sand and crystal-clear waters, it's an idyllic haven of serenity that invites you to soak up the sun and savor the salty sea breeze. The beach, bordered by lush tropical foliage, is famous for its surf breaks that attract seasoned surfers worldwide. Robertsport is starting to hit the international radar, being covered by international news like this CNN Travelers article, the accompanying Surf's Up in Robersport short film, or this New York Times article. Nana's Lodge Beach is at the heart of it all. Accessible via a three to four-hour drive from Monrovia, it's the perfect weekend or week-long getaway. 
The beaches in Robertsport are known for their amazing waves, perfect for all levels of surfers. The nearby Robertsport Surf Club offers board rentals and lessons if you're feeling adventurous and want to learn how to surf! Otherwise, you can relax in the sand, watch the surfers master the waves, and take in the beautiful Liberia coast. Nana's Lodge Beach is located in front of Nana's Lodge.
Nana's Lodge has essential beach amenities, including beach beds, a bar, and a restaurant, and the atmosphere is casual and laid-back. Travelers will enjoy a day filled with surfing, sunbathing, and getting to know the local surf community. To learn more about staying at Nana's Lodge, follow them on Instagram @nanalodge_beach_resort and follow Robertsport Surf Club @robertsportsurfclub to learn more about surfing in Robertsport. 
2. Libassa Ecolodge Beach
Photo courtesy Peter Damerell
Libassa Ecolodge in Marshall, Liberia, is a stunning oasis that beckons those seeking an escape. With its soft, white sand and bright blue waters stretching as far as the eye can see, it's the perfect destination for a weekend getaway or a day trip from Monrovia. Libassa Ecolodge offers fantastic facilities, including beachfront amenities and bungalows tucked into the forest. Libassa also has a lovely desk on a lagoon where visitors can rent a kayak, swim, sunbathe, or order a drink. Whether you're looking to unwind on the beach or explore the natural beauty of Liberia, Libassa Ecolodge is an experience you will remember.
The beach at Libassa Ecolodge is ideal for soaking up the sun and relaxing under a thatch umbrella to the sound of waves crashing. However, Libassa Ecolodge offers more than just a beach; the resort's amenities will enhance your relaxation or add some adventure. Visitors can pay a day entry fee for day use or rent a bungalow and stay for the night. The entrance fee allows you to use the beach, the five pools, the lazy river, the restaurant and bars, and the lagoon where you can stand up paddleboard, kayak, or snorkel. 
Click here to learn more about visiting Libassa Ecolodge Beach and Lagoon. If you'd instead enjoy the beach and pass on all the amenities, Caesars Beach is the local beach next door to Libassa Ecolodge. 
3. Silver Beach 
Photo courtesy of @akashdinani
Nestled in the peaceful town of Duazon, Liberia, lies a hidden gem that promises to offer visitors an easy-going retreat. Silver Beach is a quiet local beach with a laid-back vibe and a picturesque location for those seeking relaxation. With a small boardwalk leading down to the beach and large palm trees framing the Atlantic Ocean, it's a sight to behold. Located just an hour from Monrovia and 30 minutes from Marshall, Silver Beach is the perfect destination to experience Liberia like a local. 
While less famous than Robersport for surfing, Silver Beach is still a great place to catch some waves with a board or to bodysurf. Some public chairs and a few beach snack stands are nearby, including the Silver Beach restaurant -- a local favorite! However, bringing your own beach set-up and food is best to ensure a fantastic beach day. 
4. Tropicana Beach 
Photo courtesy of @tropicana_beach_liberia
Tropicana Beach and Resort in Paynesville is a quick drive up from downtown Monrovia. Tropicana Beach is best for those looking to enjoy the sun, sand, and sea, with the luxury of having resort amenities at your fingertips. Just on the outskirts of Monrovia, Tropicana Beach is ideal for escaping the city for the day. 
Tropicana Beach Resort offers amazing beach cabanas along the sand, a large pool, and a restaurant. There is typically music playing and a mix of adults and kids enjoying the amenities. Please note entrance fees are applicable for day visitors. Visit Tropicana Beach Resort for the most up-to-date information. 
5. Harper Beach
Location: Harper, Maryland County; Photo courtesy of Rami Ramitto @theramiramitto
On the Southeast end of the Liberian coast lies Harper City, the capital of Maryland County, home to some of Liberia's most beautiful and untouched beaches. These stunning stretches of coastline go on for miles, offering visitors a chance to immerse themselves in the region's natural beauty. The beaches in Harper are popular among surfers but also serve as a lovely place to explore for non-surfers. Waves for Change, a surf therapy organization based in Harper, offers lessons for beginners at the gentle point break. In contrast, the waves near the Hoffman River are more suited for experienced surfers looking for a challenge. Whether you're strolling along the coast or soaking in the breathtaking views, these beaches promise to leave an indelible mark on your memories.
Tubman Beach Bar and Restaurant is the perfect stop for a bite to eat while watching the surfers and admiring the Maryland Admission Centenary Monument right next door. Harper is known for its amazing beaches but is a more remote part of Liberia; getting there can be challenging, though well worth it! Read this article to learn more about what Waves for Change does in Harper. Another one of Liberia's beaches that must be explored! 
Ready to visit Liberia's beaches?
If you're looking for a tropical paradise with endless opportunities to explore, Liberia's beaches are a must-visit destination! Hopefully, you'll pack your swimsuit, sunglasses, and towel and head to the beach! These beaches have so much to offer, whether you're a surfer ready for adventure, wanting to take a family vacation to relax and reconnect, or anywhere in between. Liberia's beaches are extraordinary and just scratching the surface of what this country offers! Sapo National Park, Mount Nimba, and Kpatawee Waterfall are incredible for wilderness adventures and birding. Liberia also has a rich culture and heritage that is evident no matter where you go.
Liked reading about Liberia's Beaches? Check out our website for more in-depth travel tips! And follow us on Instagram @enjoy_liberia_travel for more behind-the-scenes information!