Three Days by the Beach in Robertsport, Liberia
Posted on Mon February 13, 2023.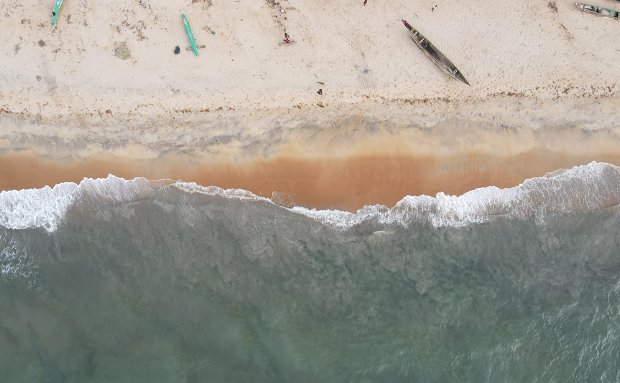 Robertsport is one of Liberia's hidden gems. With some of the best surfing waves in West Africa, Robertsport is the perfect destination to escape for a weekend or week of adventure. Check out this article for everything you need to know about how to spend three perfect days in Robertsport.
Day One: Dive into History
After Liberia's second civil war ended in 2003, visitors slowly started to trickle back to explore the country. These visitors included some Americans that saw the waves at Robertsport and began to surf the left-hand waves. These Americans brought the sport to Liberia, teaching Alfred Lomax, a Robertsport local, how to surf. Lomax took it upon himself to spread the sport throughout the community of Robertsport. Lomax taught many how to surf, including Philip Banini, who owns the beloved Philip's Guesthouse in Robertsport. Banini now teaches Liberians and guests how to surf. 
Banini grew up in Robertsport to a fishing family. He says he's loved seeing surfing's popularity rise in his community. Once he graduated from school, he saw an opportunity in the tourism and surfing industries and decided to open a guest house. As Philip says, "this is something that I want to do for the rest of my life."
Location: Robertsport; Photographer: ITC Project
Robertsport's surf culture has become an inspiration, so much so that it has come to the attention of several filmmakers taken by the beauty of the place, the resilience of the people, and the growing surfing community of Robertsport. If you want to learn more, check out "This Too Is Liberia," "Big Wata," "Water Get No Enemy," or "Sliding Liberia."
Staying at Philip's Guesthouse allows you to look out at the beach each morning from the back porch. Big mango and coconut trees provide shade from the year-round warm weather. Banini can organize various expeditions for his guests, such as hiking around the forest-covered hills or taking a boat ride on tranquil Lake Piso. Philip is passionate about providing a fantastic experience for his guests and truly embodies the surfing culture of Robertsport. Even when speaking to him, he tells me, "there is a big spirit when it comes to surfing. As I'm talking to you, the waves are awesome, and everyone wants to get out and go surfing." 
Location: Robertsport; Photographer: Solimar International
The Surf Club, partners of Swiss NGO Provide the Slide, is located next door to Philip's guesthouse. Here, you may rent surfboards. Additionally, a snack shop provides food and drinks to hungry surfers and beachgoers. If you are new to surfing, the surf club offers beginner surf lessons, so you won't have to miss out on the perfect point break waves at Robertsport. Become part of the fast-growing surf community of Liberia, rent a board, climb onto the rocks, and jump straight into the waves for a surfing experience you will never forget. 
Location: Robertsport; Photographer: Solimar International
Day Two: The Beach on your Bucket List
Don't worry if you are not much of a surfer; Robertsport offers plenty to do. Make friends at Nana's Lodge, located at the edge of one of the best beaches of Robertsport. Run by a former soccer player, Musa Shannon, Nana's Lodge opened fourteen years ago when the Liberian star returned home after the end of his professional soccer career. Nana's Lodge organizes various beach activities for guests. Visitors can play volleyball together in the sun, or beachgoers can rent an umbrella and lounge all day on the beautiful beach for a more relaxing activity. 
Location: Nana's Lodge, Robertsport; Photographer: Solimar International
From either Philip's Guest House or Nana's Lodge, you can stroll down the beach in either direction. To the southwest, there is a string of beautiful isolated beaches. Bring a book and find a spot under a palm tree for the day. To the northeast, you can walk along the beach to a busy fishing community where you can view traditional fishing boats coming and going. For the adventurous type, take a walk about an hour along the coast heading southwest to the remnants of an old shipwreck. Bring sturdy shoes for climbing over a few rocky points! When it appears as if the beach has ended, you will quickly see the wreck on the other side of the rocks. It may help to take a tour guide on this excursion, although it isn't necessary. 
Location: Robertsport; Photographer: Solimar International
At the end of the day, you can relax on the beach with a cold beer from the bar at Nana's Lodge, the Surf Club, or Vartilda Beach Guest House and be entertained by the surfers catching waves or the pinks and oranges in the sky as the sun sinks beneath the ocean. Once the sun drops, the Surf Club will make you a fire on the beach for $10, so you can spend the evening on the sand gazing at the stars. 
Day Three: Adventures at Lake Piso
When driving into Robertsport, you will come across breathtaking views. Rainforest-covered hills await to be hiked and explored on one side. On the other side, there is Lake Piso, a long body of water on the outlet of the community. Catch a boat tour of Lake Piso, organized by your guesthouse. The sturdy fishing boats park at the fishing villages along Lake Piso. These large canoes are impressively carved by hand from one tree. The locals finish the canoe by attaching a motor to the back, and then you can set off on a boat ride around the lake. 
Location: Lake Piso, Robertsport; Photographer: Rami Ramitto @theramiramitto
Getting There 
Robertsport is a three- to five-hour drive from Monrovia, depending on the season and the condition of the dirt road that leads to Robertsport from the paved road that heads north from Monrovia. As you get closer to Robertsport, Lake Piso will appear to your right and you'll get to enjoy views of its beautiful waters before arriving in Robertsport. If you don't have your own transportation, you can hire a car and driver or rent a car without the driver in Monrovia. Hotels in Monrovia can arrange car rentals or you can ask around to see if you can find a better rate. Taking a private or public taxi from Monrovia or Duala Market on the north side of Monrovia are also options. 
Want to learn more?
Follow our social media channels to stay updated on the best tourism destinations in Liberia:
Instagram: https://www.instagram.com/enjoy_liberia_travel/
Facebook: https://www.facebook.com/profile.php?id=100063966823834