Visiting Liberia's Kpatawee Waterfalls: An Eco-Friendly Adventure in West Africa
Posted on Thu May 25, 2023.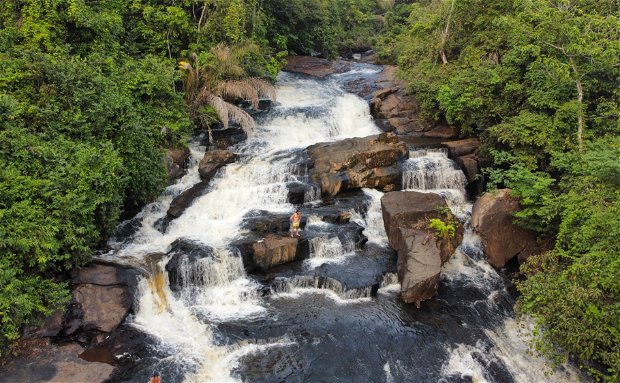 Are you ready to immerse yourself in the natural beauty of the West African nation of Liberia? Look no further than Kpatawee Waterfalls, where you'll discover the ultimate eco-friendly vacation destination. The falls are tucked away within the lush rainforest in Bong County about 3 hours from Monrovia. Get ready to escape to a world of cascading waterfalls, verdant foliage, and tranquil surroundings. Whether you're seeking a day trip or an overnight stay in a cozy hut or a tent, Kpatawee Waterfalls Ecolodge has a range of offers and accommodations to suit your needs.
About Kpatawee Waterfalls - Your ultimate Liberian eco-tourism adventure
Nestled in West Africa's Upper Guinean Rainforest, the Kpatawee Waterfalls beckons adventure-seekers and eco-conscious travelers. The ecolodge and recreational area at the falls are committed to sustainability and community involvement, meaning that every aspect of the experience is designed to impact the environment and the local community positively. From the locally grown food served in the restaurant to the skillfully crafted huts and tents, guests can enjoy the beauty and serenity of the rainforest without leaving a negative footprint. 
Where to Stay at Kpatawee Waterfalls 
Kpatawee Waterfall ecolodge huts. Photo courtesy of Becca Leaman
Escape the hustle of Monrovia at the new Kpatawee Waterfalls Ecolodge, offering rustic and charming thatched-roof huts with solar-powered electricity and running water. Wake up to the soothing sounds of nature and breathe in the fresh air as you embark on an adventure in paradise. The ecolodge offers 11 cozy huts, each with its bathroom featuring a shower and toilet. Linens are provided but remember to pack your towels and toiletries. With the option to add a cot, the huts can accommodate up to two adults and one child. If you are looking for a more adventurous experience, the ecolodge has 28 tents and tent platforms available for campers, complete with bathroom facilities.
Here's a breakdown of the pricing, as of February 2023 (note that prices may change, so be sure to contact the ecolodge to enquire):
Huts: $75 USD a night includes gate fee (A child can be accommodated in the hut for an additional $25 USD a night)
Tent Platforms: $40 USD a night with a tent, $30 USA a night without a tent includes gate fee
Gate Fee: $5 for day visitors who are not staying at the ecolodge
The ecolodge has a full-service restaurant that serves delicious meals made with locally grown ingredients. Their fantastic food is one of the things they're most known for! The ecolodge asks that you not bring in any outside food or beverages; however, they are happy to accommodate any dietary restrictions. Guests staying at the ecolodge are treated to a complimentary breakfast that includes local rice and Liberian dishes. Sandwiches and pasta dishes can also be provided throughout the day. The restaurant is an open kitchen, and guests are encouraged to watch the meal preparation to learn about the culture of food in Liberia. The restaurant serves meals family-style so guests and staff can engage and help build the strong community at Kpatawee Waterfalls!
Things to do and see at Kpatawee Waterfalls Ecolodge and Recreation Area
Spend a day with friends at the Kpatawee Waterfalls. Photo courtesy of Becca Leaman
Get ready for the ultimate eco-friendly adventure at Kpatawee Waterfalls! Take a refreshing dip in the falls, hike through the lush rainforest on one of the daily guided hikes, or request a custom hike to explore Cow Field or another waterfall, each about 25 minutes away. Of course, a waterfall means plenty of swimming and enjoying the water. Kpatawee Waterfalls has a lifeguard on duty, so your safety is covered. There is also a volleyball net for those wanting to start a game.
Visitors can hike through the rainforest at Kpatawee Waterfalls, photo courtesy of Becca Leaman
For larger groups, enjoy the conference area for meetings or arrange team-building activities. A larger conference center is currently under construction. Ecolodge guests can end their day gathered around a bonfire, listening to Liberian culture and heritage stories. Public showers and toilets are available for day guests.
How to Get to Kpatawee Waterfalls
Kpatawee Waterfalls is just about a 30-minute drive from Gbarnga, the capital of Bong County, or about a three-hour drive from Monrovia and Roberts International Airport. The majority of the trip from Monrovia is on a nice, paved road; however, the last few kilometers is on a dirt road and road conditions may vary depending on the season. Although day trips are possible, Kpatawee Waterfalls is best experienced as an overnight trip or over a few days. Guests at the ecolodge get the full experience with amazing food, nightly bonfires, and long days in nature. You won't want to miss out on anything and will need a few days to experience it all! 
How your visit to Kpatawee Waterfalls empowers the local community 
Ariel view of the waterfalls, ecolodge, and recreation area. Photo courtesy of Becca Leaman. 
At Kpatawee Waterfalls Ecolodge and Recreation Area, sustainability is at the forefront of everything they do. The local community manages the recreation area in partnership with the Environmental Protection Agency of Liberia. With funding from the United Nations Development Program, the Society for the Conservation of Nature Liberia, and Liberia EPA have provided tour guide and ecoguard training for those working at Kpatawee Waterfall. This unique partnership provides employment opportunities for local community members and allows them to gain skills and experience in hospitality, all while preserving the protected area. 
The Kpatawee Waterfall's mission to promote eco-tourism is evident in every aspect of the ecolodge, from the locally grown food served at their restaurant to the small shop selling locally produced goods. The restaurant's food is primarily grown locally, supporting the area's agriculture. And, if you're looking for souvenirs to take home, the small shop sells a variety of local products, including fruits, vegetables, honey, and more.
By staying at Kpatawee Waterfalls Ecolodge, you will have an unforgettable adventure in the heart of Liberia's rainforest and support the local community and preserve the beautiful protected area.
Kpatawee Waterfalls informational brochure
How to book your adventure to Kpatawee Waterfalls
Bookings can be made either by phone at +231886154726, +231775845754 or by email at [email protected]. Please note nightly rates are subject to change until the time of booking. As well, the ecolodge charges a small fee for setting up large groups, inquire for more details. 
You can also see more photos and keep up to date with Kpatawee Waterfalls on their Facebook and Instagram @kpatawee_waterfalls