Liberia's Protected Areas: Experience the Beauty of West Africa's Greenest Country
Posted on Tue August 15, 2023.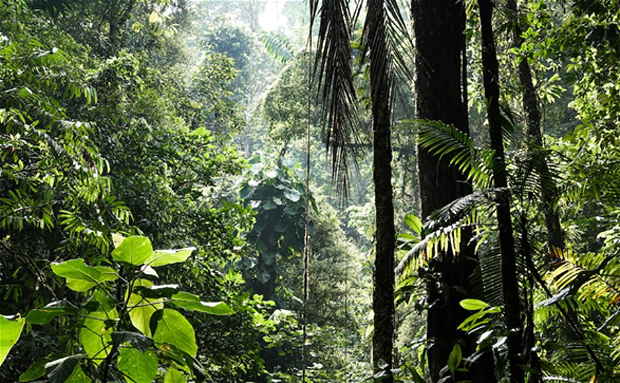 Liberia is home to some of the most intact sections of the Upper Guinean Rainforest, making it the greenest country in West Africa. The Upper Guinean Rainforest in Liberia hosts endangered species, such as western chimpanzees, pygmy hippopotami, and African forest elephants. For this reason, Liberia is preserving more of its natural heritage by creating several protected areas for Liberians and travelers to experience its unique natural wonders. Check out these must-see remarkable protected areas in Liberia.
East Nimba Nature Reserve 
East Nimba Nature Reserve, Photo credit: Solimar International
In northeastern Liberia, East Nimba Nature Reserve is a protected area established in 2003. It lies within Mount Nimba Range, gifting hikers and nature lovers with stunning scenery across three West African borders; Liberia, Guinea, and Côte d'Ivoire. Mount Nimba, also called Mont Richard Molard, the third highest peak in West Africa (1,752 m asl), rises above the incredible surrounding savannah and dense forest.
African giant swallowtail, Photo credit: Unsplash
The East Nimba Nature Reserve, internationally classified as a fundamental conservation area, harbors unique and diverse flora and fauna. The reserve is home to more than 100 species of orchid, at least 171 resident bird species, the African Giant Swallowtail, Africa's largest butterfly, the Nimba otter shrew, and multiple species of horseshoe bats, making it the perfect site for activities such as birdwatching and wildlife viewing.
Two paved roads leading up the mountain were built in the '60s by the Liberian American Mining Company, LAMCO. On your way up, you will pass through a Forestry Development Authority gate, where you will pay a visitor fee. As you make your way up to the summit, the landscape of Mount Nimba changes dramatically from forest to savannah and then to the misty green staircase of the former mine. The main road into the park will bring you to Blue Lake, an old mine hole now transformed into a gorgeous lake. From Blue Lake, hikers can go on a guided trek on the tri-border trail that leads to a breathtaking lookout of the three neighboring countries.
Blue Lake, ENNR, Photo credit: Solimar International
Contact the Forestry Development Authority in Nimba to ask about hiring a guide for hiking or camping. Also, note that the new Blue Lake Lodge is currently being constructed within the reserve, which will likely be open by the end of 2023 or the beginning of 2024. The new lodge will allow visitors to stay within the reserve closer to the trails and nature. 
Of all of Liberia's protected areas, ENNR is one of the easiest to reach, as the majority of the journey from Monrovia is on paved roads (from Monrovia to Ganta). There are accommodations in nearby Sanniquellie, such as Jackie's Guesthouse, and a few in Yekepa, closer to the reserve. 
Sapo National Park
Sapo National Park, Photo credit: Solimar International
In the southeastern part of Liberia, Sapo National Park is the country's largest protected area and the second-largest primary rainforest in West Africa. Extending over 1,800 square miles (4,674 square kilometers), it is home to a wide range of flora and fauna, including endangered species such as pygmy hippos, forest elephants, and various primate species. Sapo National Park is the perfect place for immersion in nature. 
With its abundance of birdlife, about 200 bird species, Sapo National Park offers unique opportunities for birdwatching. For travelers who want to explore off-the-beaten paths, guided trekking is the perfect choice to explore the Park's landscapes and possibly see some wildlife. Although it would be very rare to spot a chimpanzee, hippo, or an elephant, your guide can help you spot other wildlife and birds that live in the rainforest. 
Visitors can arrange hiking tours through Sapo Ecolodge or the Forestry Development Authority (FDA) Park Headquarters in Jalay Town. Before leaving Monrovia, visitors must either stop at the FDA office to fill out forms and pay park fees or arrange their trip through Sapo Ecolodge (they can help you fill out the FDA forms). It is important that the FDA or Sapo Ecolodge know you are arriving, so guides, camping, or accommodations can be arranged. 
Getting to the Park from Monrovia or Roberts International Airport takes a full day. Greenville is along the way and can serve as a place to stay over if you want to break the trip into two days. The rainy season makes it nearly impossible to reach the park by road. During the dry season, the best option is to hire a private vehicle and a local driver who knows how to navigate Liberia's rural roads; Sapo Ecolodge can help book the car service. Although the journey may be long, it is worth it as you will travel through some of Liberia's most beautiful rural areas.
Sapo Ecolodge, photo credit: Solimar International
Visitors can arrange to camp in the park through the FDA. Otherwise, Sapo Ecolodge is a great option as it is situated right outside of the park borders along a river. Whether you are staying at the ecolodge or camping, visitors park their vehicles at the FDA Park Headquarters and are received by the nearby Jalay Town village leadership. The village leadership will provide you with a blessing for your trip. A small donation is expected in return. From Jalay Town, it is about a 45-minute walk to Sapo Ecolodge. Near the ecolodge is the crossing point where you must be guided in a canoe over the river to enter the park on the other side. The canoe ride has a fee, which will be paid in advance at the headquarters. 
Visitors can also arrange to watch a cultural performance in Jalay Town. The cultural group is made up of youth from local communities who do an incredible job capturing Liberia's cultural heritage through drumming, dance, and storytelling. One of their performances tells the story of the Sapo people and their deep connection with the forest and chimpanzees. Inquire about the performance through Sapo Ecolodge or the FDA Park Headquarters.  
Lake Piso Multiuse Reserve
Lake Piso Multiuse Reserve, Photo credit: Solimar International
Lake Piso Multiuse Reserve on the Atlantic coast in western Liberia is another significant protected area. The reserve takes its name after Lake Piso, the largest lake in Liberia known for its scenic views and unique ecosystem composed of dense rainforest, mangroves, coastal vegetation, freshwater systems, and species of globally important conservation status, such as Western chimpanzee, Mona monkeys, African manatee, distinctive shore and seabirds, and many more.
The protected reserve is home to a rich variety of resident bird species such as the African pied hornbill as well as migratory birds from Europe, making it a paradise for birdwatchers. So, bring your binoculars and enjoy observing the vibrant natural world. Rising from the coastline, you will find the hilly Wakalor Forest. 
There is an ongoing project to establish a well-marked hiking trail that will take you from Nana's Lodge in Robertsport through the Wakalor forest to a shipwreck on the beach. It will be completed by the end of 2023, so look for signs leading to the FDA entry gate to pay a fee to hike on the trail.
Start of the Shipwreck Trail in Wakalo Forest, Photo credit: Matthew Humke
You can also explore Lake Piso by boat. Local guesthouses, such as Philip's Guesthouse, Nana's Lodge, or Vartilda's Guesthouse, and the Robertsport Surf Club can help you arrange a boat trip on Lake Piso in a traditional boat, which is carved out of one tree. Furthermore, Robertsport, a fishing village situated at the tip of the Lake, is a little Liberian gem that gifts surfers with impressive waves and warm water all year round. The Robertsport Surf Club offers board rentals and lessons if you're feeling adventurous and want to learn how to surf! Otherwise, you can relax in the sand, watch the surfers, and take in the beautiful Liberia coast.
Robertsport Surfing Competition, courtesy of Royda Urey
Lake Piso Multi Use Reserve is about a 3 to 5 hour drive from Monrovia, depending on road conditions. There are multiple options for accommodations in Robertsport, which is the closest town to the reserve. 
Curious about what other adventures await you in Liberia? Check out Liberia's official travel website for more in-depth travel tips! And follow us on Instagram @enjoy_liberia_travel.