Visiting Liberia's Sapo National Park: A Travel Guide for One of West Africa's Best Parks
Posted on Thu May 25, 2023.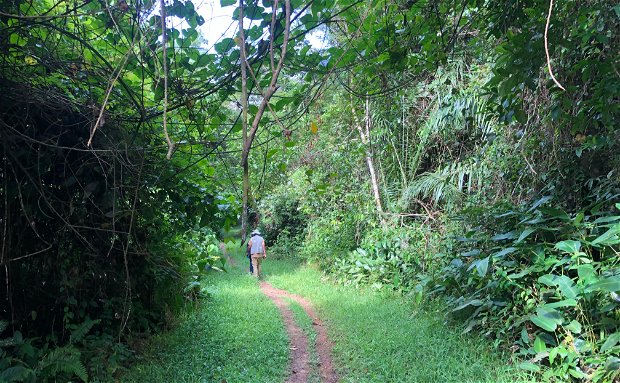 Welcome to Sapo National Park, Liberia's largest protected area with incredible biodiversity, located in the southeastern part of the country. The park covers over 1,800 square kilometers of tropical rainforest. It is home to many animals, such as the West African chimpanzee, the pygmy hippopotamus, the African forest elephant, and many incredible bird species. As part of the Upper Guinean Forest, Sapo National Park is the second largest area of tropical rainforest in West Africa, behind Taï National Park in Côte d'Ivoire.
Exploring Sapo National Park's must-do activities
Although difficult to spot, Sapo National Park is home to the endangered Pygmy hippopotamus 
Introduction
Sapo National Park is the place to be for nature adventurers! Before leaving Monrovia, visitors must either stop at the FDA office to fill out forms and pay park fees or arrange their trip through Sapo Ecolodge (they can help you fill out the FDA forms). It is important that the FDA or Sapo Ecolodge know you are arriving, so guides, camping, or accommodations can be arranged. 
Getting to the Park from Monrovia or Roberts International Airport takes a full day. As the roads to the park are dirt and can be impassable in the rainy season, the dry season from November to April is typically the best time to visit Sapo National Park. Wildlife is easier to spot during these months as well. However, remember that wildlife sightings aren't guaranteed, but your chances increase with a good guide. 
Once you arrive to Jalay Town, visitors park their vehicles at the FDA Park Headquarters and are received by the nearby Jalay Town leadership. The village leadership will provide you with a blessing for your trip. A small donation is expected in return. From Jalay Town, it is about a 45-minute walk to Sapo Ecolodge. Near the ecolodge is the crossing point where you must be guided in a canoe over the river to enter the park on the other side. The canoe ride has a fee, which will be paid in advance at the headquarters. 
Preparing for a canoe ride on the Sinoe River, photo courtesy of Solimar International. 
Cultural Activities 
You can experience elements of the local culture and learn about the rich history of the Sapo people through the Sapo Cultural Group. Visitors can organize a performance through the Sapo Ecolodge and enjoy traditional drumming, dancing, and performances. The experience also includes a dramatic retelling of the Sapo people's history, showcasing their close relationship with the chimpanzees that live in the Sapo landscape. 
This experience is an excellent opportunity to gain insight into Liberia's cultural heritage and appreciate the stories, music, and dance that make this country so unique.
Sapo Cultural Group performance, photo courtesy of Solimar International. 
Sapo National Park's Diverse Wildlife
Sapo National Park is a nature lover's paradise and the epitome of ecotourism. This biodiverse park is home to many small and medium-sized mammals, including seven species of duikers, pygmy hippos, and forest elephants. Ten-plus species of primates are also found here, including the Western Chimpanzees, Diana monkeys, and Western Black and White Colobus monkeys. 
The park also boasts an impressive variety of birdlife, with over 200 species within its borders. Check out this video to catch a glimpse of the awe-inspiring wildlife found in Liberia!
Where to Stay in Sapo National Park
Visitors can arrange to camp in the park through the FDA. Otherwise, Sapo Ecolodge is a great option as it is situated right outside of the park borders along a river. Sapo Ecolodge was built with a focus on preserving the rainforest and providing financial benefits to local communities. The lodge was created through a collaborative effort between the Wild Chimpanzee Foundation (WCF), the Liberian Forestry Development Authority, and six local communities. 
Sapo Ecolodge has three chalets with their own bathrooms; photo courtesy of Matt Humke
The ecolodge provides employment opportunities for the local communities and trains community members in hospitality and nature guiding. Sapo Ecolodge consists of three charming chalets, each with a double bed and space for an additional twin cot, accommodating a maximum of three guests. The chalets are equipped with private bathrooms while campers can enjoy two tent platforms and shared bathrooms. Solar panels provide 24-hour electricity, ensuring a comfortable stay. Camping on elevated platforms is also available at the ecolodge.
Guests will enjoy traditional Liberian cuisine, such as rice and fish or chicken with various sauces, served for lunch or dinner. During the booking process, guests can provide dietary restrictions and make any special requests to enhance their experience. Keep in mind that this is a remote area, so certain things may be inaccessible
A meal at Sapo Ecolodge, photo courtesy of Solimar International
Getting to Sapo National Park and Sapo Ecolodge 
Getting to Sapo National Park from Monrovia, or Roberts International Airport, is an adventure in its own right. The journey takes about a day, or more, depending on road conditions, and involves traveling through some of Liberia's most beautiful rural landscapes. The route crosses several rivers, including the impressive St. John River. It's best to hire a private vehicle and driver who knows how to navigate through rural Liberia. The Sapo Ecolodge staff can assist with hiring private drivers during the booking process. While the journey may be long, the reward is worth it, as Sapo National Park and the surrounding area are some of Liberia's most beautiful and biodiverse regions.
There are additional costs for these various activities and nature guides, as well as park entrance fees. These fees will be paid at the FDA office in Monrovia or during the booking process with Sapo Ecolodge. For bookings and inquiries about price and availability contact Sapo Ecoldoge at [email protected]. 
Enjoying the chalets, photo courtesy of Solimar International
Curious about what other adventures await you in Liberia? Check out the EnjoyLiberia.Travel website for more in-depth travel tips! And follow us on Instagram @enjoy_liberia_travel for more behind the scenes information.